Good morning everyone...WOW!...what an incredible response we had to our first birthday celebrations last week, you took our breath away with the sheer excitement and enthusiasm shown whilst participating in the blog hop and again when posting your challenge entries on your blogs! We are so lucky to have such talented crafters take part in our challenges and the design team were blown away by your creations for the Something Sweet challenge, it certainly made our mouths water whilst we were visiting your blogs and leaving comments! The design team would like to thank each and every one of you for making our first birthday celebrations such an exciting occasion, it will certainly be something we will remember for a very long time!
You're probably all sitting there shouting at your computers for me to get on with announcing the winners for the prizes donated by our sponsors...but firstly I have to thank our sponsors for being so generous with their prizes, our birthday celebrations wouldn't have been quite so much fun without them!
So without further ado...the four winners chosen by random.org are:
If any prizes are not claimed by 8pm (UK time) on Sunday 30th August then a new winner(s) will be chosen and announced on Monday 31st August!
********************
Congratulations ladies if you would like to email me (Donna) at
cupcakechallenge@googlemail.com
and I will pass your details on to our sponsors so that they can contact you direct to arrange for you to receive your prizes! Don't forget to pop back later to see who has been chosen for our Top 5 and to find out the individual winners from the design teams blog hop!

****************************************
Now...onto this week's challenge and after the excitement of last week, we would like to see you make
.....
.....A SHAPED CARD...that's anything but a square!
This weeks challenge is sponsored by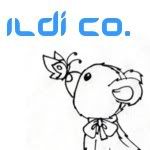 and they are offering one lucky winner the opportunity to choose 5 free digi images from their shop

Ildiko has always been into drawing and art and her sister-in-law Jenny who has been hooked on scrapbooking and stamping since her 6 year old was born, got together and decided that starting a digital stamp company would be great fun to do together. She named it Ildi Co, as a play on words with her actual name "Ildiko". So here we are, a couple of sister-in-laws who are trying to blend our passions and make a dream come alive! Ildi Co started about a month ago and we've already been able to put together a fantastic design team, so now all we need to do is spread the word. Ildi Co will release new images every month, so be sure to watch for them!
The design team have had lots of fun with this challenge and created some amazing inspiration for you....if you want to find out how they made their cards then you can go directly to their individual blogs to find out all the details!

Claire Hall
Denise Morgans
Donna Barber
Evelina Wilkberg
Ida Melby
Jeanette Eames
Lisa Mckinney
Liza Carruthers
Pops
Sandy Brown
Stephanie Serrano
Tammy Wark
A Few things to remember!
Please leave a link to your blog post and not just your blog!
Make sure that 'Cupcake Crafts' are linked in your post...if you don't mention us in your posting then your link entered with Mr Linky will be removed and you will not be eligible for any prize(s) offered by our sponsors!
Please only link to new entries - it isn't fair to backlink to older posts!