Good morning crafters and welcome to another Cupcake Craft Challenge! Wow!!! You certainly love 'cute' and you love your 'bugs' too! What wonderful creations you all entered last week it was a real delight for us to visit your blogs and see all the wonderful little bugs you chose, there were some really beautiful buttterflies too and some of them hand made too! Don't forget to pop back later to see who has been chosen for last weeks Top 5 and who has won the digi downloads from Bee Crafty
****************************************
Now it's time to move onto this weeks challenge which is...
This is a fairly open theme so please interpret the challenge in your own style and if you need some inspiration the design team have provided plenty...if you want to find out how they made their cards then click on their name to go directly to their individual blogs! We hope you enjoy this challenge as much as we have!
****************************************
As it's the first week of the month we are sponsored by
Simon Says Stamp
do pop over to the Simon Says Stamp shop, they have a fab selection of crafting goodies and stock lots of goodies that can't be purchased here in the UK!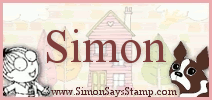 Simon Says Stamp are offering one lucky winner the opportunity to win a $20 Gift Voucher & Free Shipping!
****************************************
Caryn Davies
Denise Morgans
Donna Barber
Erin Bailey
Evelina Wilkberg
Ida Melby
Kathrin Donhauser-Ruth
Liza Carruthers
Pops
Stephanie Serrano
Tammy Wark
A Few things to remember!
Please leave a link to your blog post and not just your blog!
Make sure that 'Cupcake Crafts' are linked in your post...if you don't mention us in your posting then your link entered with Mr Linky will be removed and you will not be eligible for any prize(s) offered by our sponsors!
Please only link to new entries - it isn't fair to backlink to older posts!