Good morning everyone...WOW to all the entries we received last week for Liza's Red & Green and challenge...thank you to everyone who entered and huge apologies for Mr Linky doing a disappearing act...he does like to make life difficult for us bloggers every now and again...where's his Christmas spirit lol!

We have some news for you this week...sadly Pops has decided to stand down from the design team due to family commitments...we would like to thank her for all her hardwork and we wish her good luck for the future! Victoria was our GDT member for the month of November and we have asked her if she would like to join us permanently and thankfully for us she said yes! So welcome aboard Victoria...we hope you enjoy being part of the team and we all look forward to seeing your amazing creations!

We have a new GDT member for the month of December and her name is Shelly from Minkies Paper Paradise...Shelly regularly joins in our challenges and we absolutely love her beautiful cards and if you want to see some pretty lush colouring of images then pop over to her pop blog for a peek...welcome aboard Shelly...your card for this weeks challenge is stunning!

Don't forget to pop back later to see who has been chosen for the Top 5 and also to see who has won the digital kits from last weeks sponsor The Creative Cottage
!
****************************************
Now it's time to move onto this weeks challenge which is...


***SING A CHRISTMAS CAROL***
We thought we'd go all out for Christmas this week and what better than to ask you to choose your favourite Christmas Carol to use on your cards and Christmas projects...the design team have chosen their fav carols and if you need any inspiration they have provided plenty! If you want to find out how they made their cards you can click on their name above their creation to go directly to their individual blogs!
****************************************


As it's the first week of the month we are incredibly lucky to be sponsored by our regular sponsor
Simon Says Stamp
...do pop over to the Simon Says Stamp shop, they have a fab selection of crafting goodies and stock lots of goodies that can't be purchased here in the UK!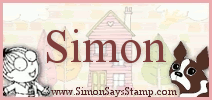 Simon Says Stamp are offering one lucky winner the opportunity to win a $20 Gift Voucher & Free Shipping!
****************************************

A Few things to remember!
Please leave a link to your blog post and not just your blog!
Make sure that 'Cupcake Crafts' are linked in your post...if you don't mention us in your posting then your link entered with Mr Linky will be removed and you will not be eligible for any prize(s) offered by our sponsors!
Please only link to new entries - it isn't fair to backlink to older posts!