Hi everyone and welcome to Challenge 94 at Cupcake Craft Challenge..we are going to post our challenges slightly different from this week...instead of having a separate post for the winner and Top 5...they will be combined in the same post as the new challenge details...this will not only save time on the admin side but will also mean that you won't have to remember to pop back later on in the day to see who the winners are!

This weeks challenge has been chosen by Denise and the theme is...
All you have to do is use something sparkly on your projects...this could be glitter card...glitter...gems or even glittery ribbon!
****************************************
Here is where we will now post the winner of last weeks sponsored challenge and the Top 5 as chosen by Catherine
Challenge 93 winner
chosen at random is

Toni
Toni Crafts I Love



Congratulations Toni you win the £10 gift voucher from last weeks sponsor One Stop Card Crafts! Can you please e-mail me (Donna) at the address in the sidebar by Sunday 13th June and I will arrange for you to receive your prize! If the prize is not claimed by 13th June another winner will be chosen!

The Top 5 Winners are

Angela
Ingrid
Melanie
Sheena
Sophie



Congratulations ladies you can pick up the TOP 5 badge below...we hope you will display it on your blogs with pride!
****************************************
We are pleased to welcome back our regular monthly sponsor...Simon Says Stamp and we are forever grateful that Heidi continues to sponsor Cupcake. Simon Says Stamp have an incredible selection of crafting goodies in their on-line store and they stock lots of scrummy goodies that can't be purchased here in the UK!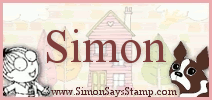 Simon Says Stamp are offering one lucky winner the opportunity to win a $20 Gift Voucher & Free Shipping!
Our wonderful design team have provided some amazing inspiration....if you want to find out how they made their cards then click on their name to go directly to their individual blogs.
Denise Morgans
Catherine Lavoine
Donna Barber
Kathrin Donhauser-Ruth
Liza Carruthers
Shelly Luton-Olson
Victoria Rogers
A Few things to remember!
Please leave a link to your blog post and not just your blog!
Make sure that 'Cupcake Crafts' are linked in your post...if you don't mention us in your posting then your link entered with Mr Linky will be removed and you will not be eligible for any prize(s) offered by our sponsors!
Please only link to new entries - it isn't fair to backlink to older posts!